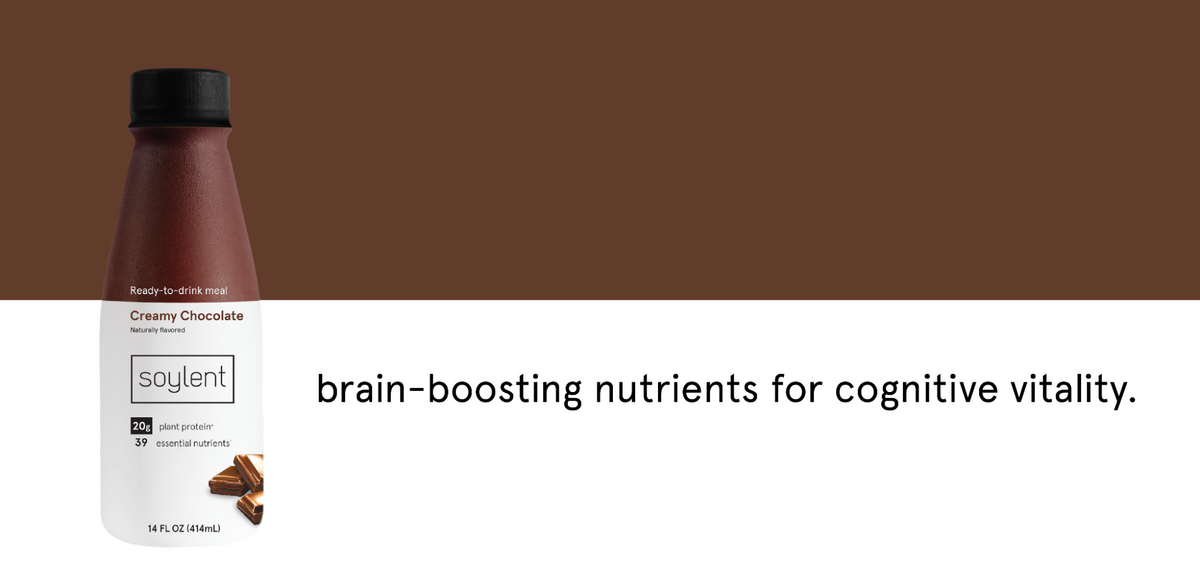 As we journey through life, one of our most treasured possessions is the health of our brain. The remarkable abilities of the human mind to think, remember, and create make it the center of our existence. As we age, maintaining brain health becomes a priority, and a key aspect of this is nourishing our brains with the right nutrients. In this blog, we'll delve into the impact of various brain-boosting nutrients on brain health and healthy aging.
Soylent has worked with scientists and doctors to ensure our formula delivers a dozen different brain boosting nutrients in a formula that is easy to integrate into your life.  We all worry about aging, so grab a Soylent and age better. Age smarter.  We also put together a summary of the science that helped inform our formula, complete with citations.  You don't have to believe us, but please believe the science.
Omega-3 Fatty Acids: Powerhouses for Cognitive Function
Omega-3 fatty acids, found in fatty fish like salmon, walnuts, flaxseeds, and in all Soylent products are celebrated for their anti-inflammatory properties and their role in promoting cognitive function. These essential fats support brain cell membrane integrity and enhance communication between brain cells. Studies have linked a higher intake of omega-3s to a reduced risk of cognitive decline and improved memory retention.
Choline: Fueling Cognitive Processes
Choline, present in eggs, liver, and certain vegetables, is a precursor to the neurotransmitter acetylcholine, which plays a crucial role in memory and learning. Adequate choline intake supports cognitive processes and helps maintain brain structure, making it an essential nutrient for healthy aging.
Magnesium: Calming the Aging Brain
Magnesium, found in nuts, seeds, and leafy greens, is essential for numerous biochemical reactions in the body, including those involving the brain. It helps regulate neurotransmitter balance, reducing the risk of anxiety and depression. Magnesium's role in promoting relaxation also contributes to better sleep quality, which is vital for cognitive health.
Vitamins B12 and B6: Vital for Brain Maintenance
Vitamin B12, primarily found in animal products, is essential for nerve function and the production of myelin, the protective coating around nerve cells. Its deficiency can lead to memory problems and cognitive decline. Vitamin B6 supports neurotransmitter production, influencing mood and cognitive processes.
Vitamin D: Sunlight for Brain Vitality
Often referred to as the "sunshine vitamin," vitamin D is crucial for brain health. It plays a role in neuroprotection and helps regulate neurotransmitter function. Low levels of vitamin D have been associated with an increased risk of cognitive impairment, making it important to maintain adequate levels, either through sunlight exposure or supplements.
Vitamin E and Vitamin C: Antioxidant Guardians
Vitamins E and C are powerful antioxidants that protect brain cells from oxidative stress and inflammation, both of which contribute to cognitive decline. Vitamin E, found in nuts and seeds, supports healthy blood flow to the brain, while vitamin C, abundant in fruits and vegetables, aids in collagen formation, crucial for maintaining the integrity of brain blood vessels.
Selenium, Iron, and Copper: Trace Minerals with Impact
Selenium, an essential trace mineral found in nuts and seafood, plays a role in the body's antioxidant defenses and supports proper thyroid function, which influences brain health. Iron, critical for oxygen transport, ensures that brain cells receive the oxygen they need for optimal function. Copper, in moderation, supports neurotransmitter synthesis.
The Calcium-Zinc Duo: Balancing Brain Function
Calcium and zinc, when in balance, contribute to healthy brain function. Calcium plays a role in neuronal communication and is crucial for maintaining the electrical signals between brain cells. Zinc, on the other hand, supports memory formation and learning processes.
It can be a challenge to get all of these brain boosting nutrients into your diet, but Soylent has made it easy, by including these in every Soylent product.  This can help you reach your goals, support healthy aging, and taste delicious all at the same time.
Also, because many of these nutrients act in synergy with one another it is important to consume them all together and we have taken the guesswork, the prep, and the clean up out of the equation. You also don't have to worry about overdosing on these key nutrients, we provide the correct, science-backed dose. You're welcome.
As we age, our brains undergo changes, but proactive measures can significantly influence the trajectory of cognitive decline. Nourishing our brains with a variety of brain-boosting nutrients, such as omega-3 fatty acids, choline, magnesium, and various vitamins and minerals, is a proactive step towards maintaining cognitive vitality and promoting healthy aging. A well-balanced diet that includes these nutrients can provide the foundation for a thriving mind throughout our lives. Remember, a well-nourished brain is a resilient and vibrant one.
Find Soylent in the Nutrition Section near the pharmacy at Walmart, Target, Publix, HEB, and Meijer.  Find a store near you here.
We did our homework:
https://www.ncbi.nlm.nih.gov/pmc/articles/PMC2805706/
https://www.alzheimers.org.uk/about-dementia/risk-factors-and-prevention/omega-3-and-dementia
https://www.ncbi.nlm.nih.gov/books/NBK209327/
https://www.ncbi.nlm.nih.gov/pmc/articles/PMC2781043/
https://www.ncbi.nlm.nih.gov/pmc/articles/PMC6132681/
https://www.alzdiscovery.org/cognitive-vitality/ratings/vitamin-c-and-e
https://www.ncbi.nlm.nih.gov/pmc/articles/PMC7583976/ 
https://www.ncbi.nlm.nih.gov/pmc/articles/PMC7728061/