Holiday Cravings? Here's How to Beat Them.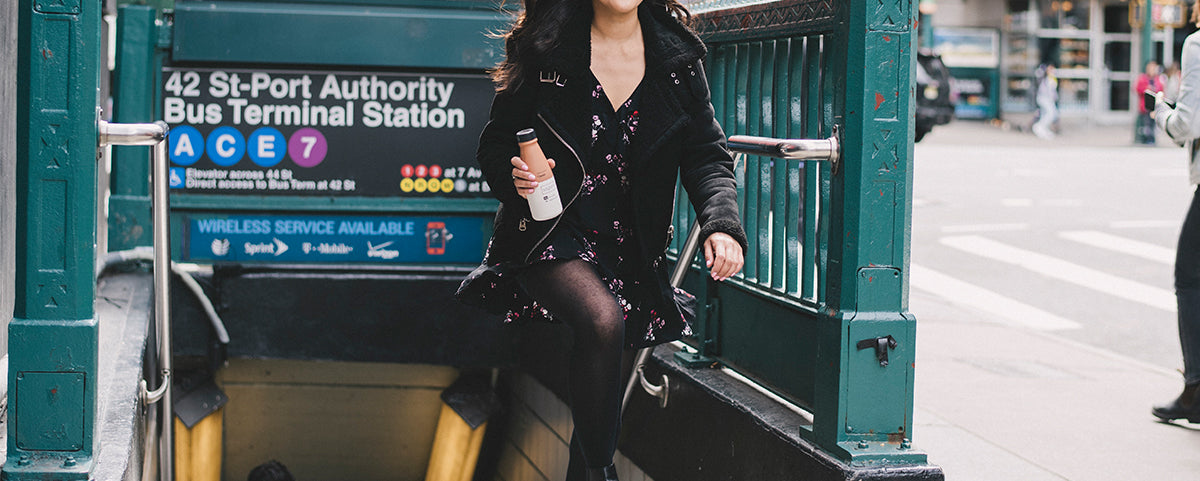 The holidays are upon us.
For some, this can be one of the happiest times of the year. For others, it can be extremely stressful. But, there is one underlying theme to the holidays that everyone can relate to—indulgence. Mom's homemade pies, grandma's traditional cookies, endless amounts of cakes, juicy ham, roasts that will make you drool on the spot—you name it, there are temptations every day leading up to the biggest holiday of the year.
If you need a little help curbing these cravings, we've got your back. Follow these simple tips to keep your munchies at bay.
Don't skip meals.
"I'll just skip this meal so I can eat more at the holiday party."
We've all had this thought, and it's not a healthy one. By doing this, you're setting yourself up for a binge. And what kind of food will there be to binge? Read the previous paragraph and add even more. Rather than starving yourself and binging on unnecessary fats and sugars, maintain a balanced blood sugar level by eating a healthy meal for every meal.
Before the dreaded holiday festivities, try to munch on a balanced snack with slow-burning carbs to fill your stomach, like Stacked. Then, you will be more level headed when presented with endless naughty options—everything in moderation.
Always remember breakfast.
The holidays can be one of the busiest times of the year, but that's not a good enough excuse to skip breakfast. As the saying goes, breakfast is the most important meal of the day—a healthy breakfast, of course. Starting your day with a healthy breakfast puts your metabolism in good standing, creating fewer chances for you to fall into a dietary slump or binge down the line.
No, a cup of coffee is not considered a balanced breakfast. But, you can get the convenience of a cup of coffee plus the nutrition your body needs with our ready-to-drink Café. Start your morning with a Mocha or Vanilla Café or grab a Chai Soylent to get in the holiday spirit.
Remember, not all holiday foods are created equal.
Dips, cakes, and endless charcuterie boards tempt you at every turn. And, because they're all typically homemade, you don't know exactly what you're eating. But, there's a science to figure out the best foods for you on the table.
See the veggie platter? Start there. A good rule of thumb is to balance your plate with 80% greens, vegetables, and fruit, and allow 20% for indulgence. Don't get two plates. Put everything on one plate so you can visually see and monitor your holiday scrounging. Allow yourself to fill the 20% with foods that will make you feel like you're doing something bad, but not bad enough to regret it in the morning.
Engage with friends...not the snack table.
The best place at the party is usually the snack table. This year, let's change that standard. Rather than hovering around the food, grab your 80/20 plate and take a seat with your loved ones. This will help you get away from the temptations and enjoy what the holidays are all about—love.
Keep a routine.
If you are traveling for the holidays, you probably know the struggles of keeping your typical daily routine on the move. Airports, trains, and family homes all present the perfect opportunity to slip into a sluggish slump. While the holidays are meant for relaxing, keeping the core of your routine can help you stick to the daily life that you worked so hard to maintain. Keep your mind and body focused on your goals even when you're not at home.
Be prepared.
We all know our strengths and weaknesses over the holidays. Airport foods and homemade goodies are some of the most tempting health-crushers for us. During intensive travel days or back-to-back party evenings, it's crucial to stay prepared. Always keep a healthy snack bar on hand to beat the temptation of grabbing that bag of chips before you board. Or, fill your body with a healthy, decadent in-between meal packed with protein rather than rummaging through your parents' refrigerator. The more you prepare for the holiday season, the better your chances are of getting out of there unscathed.