How to Read a (Soylent) Nutrition Label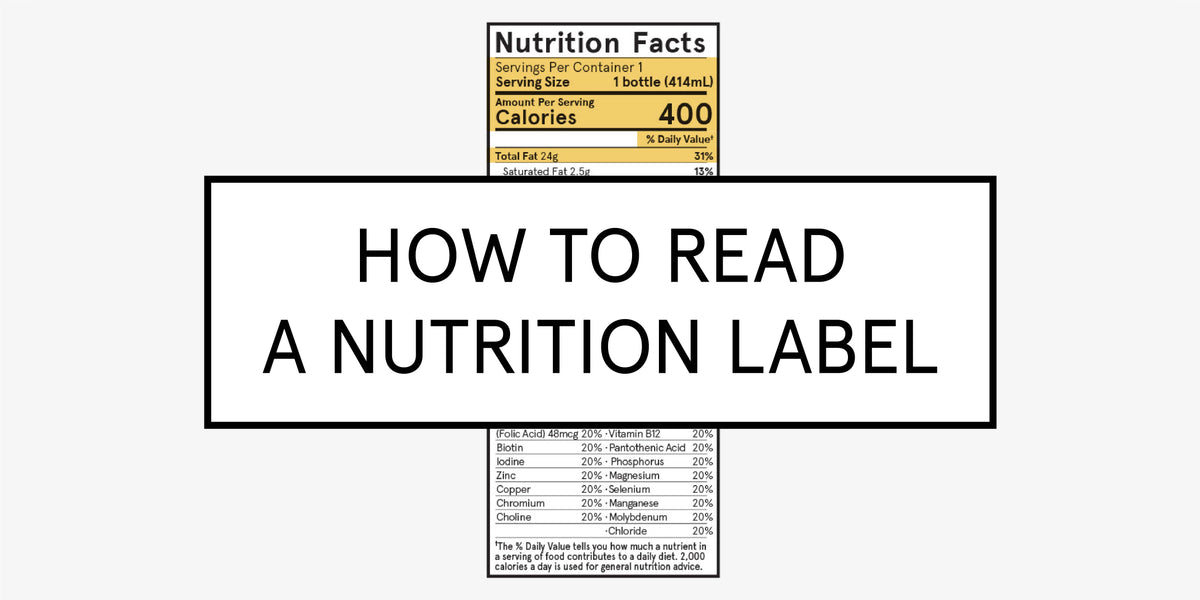 Written by: Dietitian - Nicolette DeAngelis, RDN, LDN
The Nutrition Facts Panel found on food packaging displays a lot of information and it can be overwhelming. 
The details on the label include the nutrient list and ingredients list. Evaluating a label is important to ensure you know what you're consuming and help determine if it aligns with your current health goals. 
Let's discuss a few key areas of the nutrition label that can be confusing:
Serving Size: Double check serving size to ensure you are consuming the intended amount of calories, fat, sugar, etc. Soylent Drinks contain one serving per bottle (shown here). The serving size on Soylent Powders is ½ cup to make an 8 oz. shake with 270 Calories or 2/3 cup to make a 12 oz. shake with 400 Calories. For other foods like a breakfast cereal, the serving size can vary between 1/2 -1 cup and there are multiple servings per box. All values on the label are referring to one serving size.
Calories: The calorie amount reflects calories per serving. To calculate total calories in the package or container, multiply the number of servings per container by this calorie amount shown. 
Percent Daily Values: The percentages on the right-hand side of the nutrition label reflect the percentage of Recommended Daily Values (%DV) each nutrient provides based on a 2000 Calorie diet, these values are ultimately set by the FDA in the United States and change occasionally. Good to note if you ever see the DV change in a bottle of Soylent, it doesn't always mean we have changed the amount of the nutrient, but instead that the regulation changed.

Soylent Drinks contain 40% of the DV for protein. In a 2000 Calorie diet, the Recommended Daily Value for protein is 50 grams per day¹. 20 grams per shake divided by 50 grams per day equals 40%. The %DV can be a useful tool to determine if a food is high or low in a nutrient.

Low: 5% DV or less of a nutrient per serving

High: 20% DV or more of a nutrient per serving

Total Fat: Fat can be broken out into saturated, trans, polyunsaturated, and monounsaturated. Poly and monounsaturated fats are the "good" fats that we should optimize when making food choices. Soylent Drinks contain mostly monounsaturated fats from high oleic sunflower oil providing omega 3, omega 6 and omega 9. Monounsaturated fats are also found in foods like nuts and avocados. Try to minimize saturated fat and avoid trans fats. 
Carbohydrates: Carbohydrates on a label are often broken out into fiber, total sugars, and added sugars. When evaluating carbohydrates on a nutrition label, choose products that contribute fiber and minimize added sugars. Added sugars are those that are not naturally occurring in a food. For example, unsweetened applesauce may contain 8 grams of total sugar per serving, but the label shows 0 grams of added sugar. The 8 grams of sugar are naturally occurring in the applesauce.
Vitamins and Minerals: Since Soylent Drinks are meal replacements, they contain the 28 vitamins and minerals that may be found in a balanced meal. The Soylent Drink is a great meal replacement option since it serves as a good to excellent source of the listed vitamins and minerals. 
Ingredients: Ingredients are listed in order of prevalence. For example, the first ingredient in Soylent Cacao Powder is Soy Protein Isolate. Don't be alarmed by the longer ingredients list seen in a meal replacement shake. Each vitamin and mineral is required to be listed out and while many of these ingredients sound like a chemistry project they are essential nutrients for your body to stay healthy.
References
1. Daily Values. National Institutes of Health. https://ods.od.nih.gov/HealthInformation/dailyvalues.aspx. Accessed July 2020