Optimized Soylent: Change is good!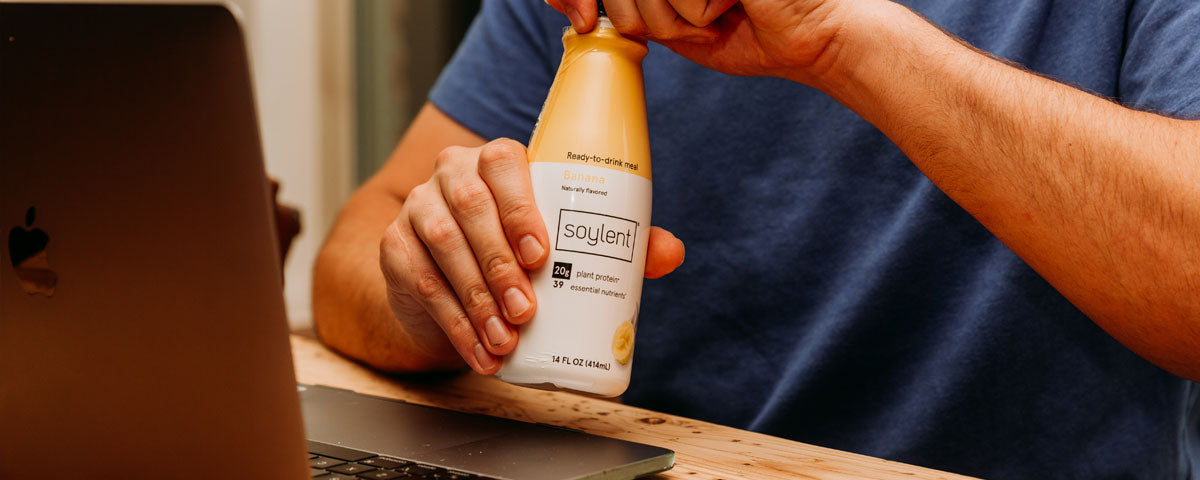 The Soylent you love, with the changes you've wanted. Soylent Optimized is in the wild, and we want you to know what has changed!
So What's Changed?
The Ready-to-Drink line is now naturally flavored, has lower added sugar - down from 9g to 1g and includes 3 more essential nutrients - Choline, Phosphorus and Chloride. You'll also notice that we have two new flavors! 
Improved Natural Flavors 
We've removed the artificial flavors from our Ready-to-Drink line. Not to worry though, the texture and mouthfeel are the same, but what you will notice are improved flavor notes. We've worked on honing each flavor profile for a more enjoyable consumption experience.

In blind taste tests, our new Creamy Chocolate outperforms category leaders who use milk and sugar. This is a big win for the plant-based community  and it shows that we don't need to sacrifice taste for function. Now you can enjoy your Soylent knowing there is nothing artificial about it. 
1g of Sugar 
Our team of scientists are committed to bringing the best tasting products using the most technologically advanced ingredients. For the sweetener, we are using a newer sweetener technology, Allulose. Allulose is a naturally occurring low-calorie sweetening ingredient that has the benefit of tasting exactly like sugar but has less calories and does not add sugar. Allulose is also not a sugar alcohol. It can be naturally found in figs, raisins, molasses and maple syrup. In addition, Allulose is a low glycemic index carbohydrate (slow burning) which does not raise blood glucose or insulin levels in healthy individuals or when consumed by people with type 2 diabetes.(1-3) In our Soylent, we are using less than 6g/bottle.(4, 5)
More Nutrients 
We're introducing three new essential nutrients to our priority blend. Each bottle is now crafted with 39 essential nutrients including vitamins, minerals, amino acids, BCAAs, Omega-3s and Omega-6s. The new nutrients on the block are: Choline, Phosphorus and Chloride.  We've added these without compromising flavor.   You won't even notice that they are there, they will just be providing their nutritional benefits. 
- Choline - promotes liver function, healthy brain development, muscle movement, while supporting your nervous system and metabolism.
- Phosphorus - is a mineral found in your bones. Along with calcium, phosphorus is needed to build strong healthy bones, as well as, keeping other parts of your body healthy.
 
- Chloride - is one of the most important electrolytes in the blood. It helps keep the amount of fluid inside and outside of your cells in balance. It also helps maintain proper blood volume, blood pressure, and pH of your body fluids.
 
Hello Creamy Chocolate and Banana
We've saved the best for last! We're introducing two new flavors to our optimized Ready-to-Drink family. Backed by numerous requests, we've added Banana and Creamy Chocolate to the line up. For those of you who have requested another fruit flavor, we have finally perfected our Banana flavor and are ready to share it with you. And for those of you who have wanted a richer, more milk chocolatey flavored experience, we've created Creamy Chocolate. It tastes just like a chocolate milkshake. We are warning you now, both these new flavors are absolutely delicious. 

 We here at Soylent cannot wait to hear your feedback on the optimized Ready-to-Drink line and are so excited to be sharing our latest with you. After many hours of perfecting the formula, we're confident you are going to enjoy it as much as we do!
Footnotes:
1. Kendall C, Wolever T, Vuksan V, et al. Comparison of glycemic responses elicited by 25g glucose, 25g allulose. Glycemia Consulting Inc. Toronto, ON, Canada. 2014.
2. Wolever T, Jenkins AJ. A Randomized, Controlled, Crossover Study to Assess the Effects of a Sweetener on Postprandial Glucose and Insulin Excursion in Healthy Subjects. Glycemic Index Labs. Toronto, ON, Canada. 2015.
3.Wolever T, Jenkins AJ. A Randomized, Controlled, Crossover Study to Assess the Effects of a Sweetener on Postprandial Glucose and Insulin Excursion in Healthy Subjects. Glycemic Index Labs. Toronto, ON, Canada. 2015.
4. Han et al. Gastrointestinal Tolerance of D-Allulose in Healthy and Young Adults. A Non-Randomized Controlled Trial. Nutrients 2018; 10, 2010.
5. HIida et al. Estimation of Maximum No-effect Level of D-Psicose in Causing Diarrhea in Human Subjects. Journal of the Japanese Council for Advanced Food Ingredients Research 2007; 10(1):15-19.