Soylent Original Powder 1.9 Is Coming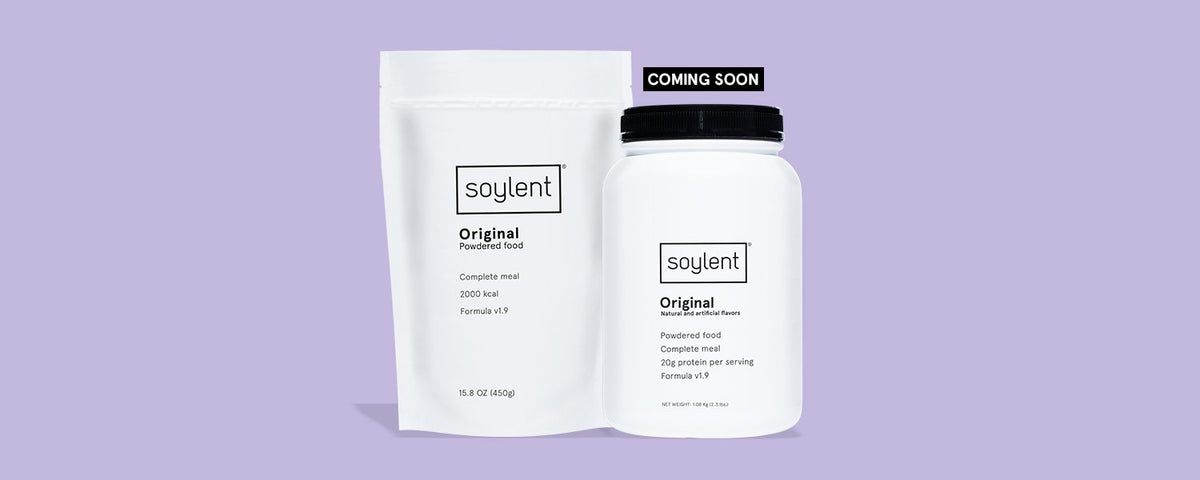 Grab your shaker bottles: Original Powder 1.9 is now in shipping in Pouch and soon in Tub!
We've made changes to taste, texture, and composition based on your feedback to Original Powder 1.8. Overall, the serving size for Powder 1.9 is up from 87g of Powder to 90g per 12 fl oz of water. The net weight of a pouch has also been increased from 435g to 450g.
What else is so great about our new formula?
Improved Flavor
We've balanced out the flavor profile to give the sweet, subtle flavor of Original Powder an even smoother finish. You could even say we gave it more of that velvety "mouthfeel" celebrity chefs are always talking about.
And that's not all! There are also some equally exciting — though maybe less glamorous — updates to the Powder 1.9 nutritional profile.
More Potassium
To further align with new Reference Daily Intakes (RDI) guidelines from the FDA, we've increased the amount of potassium per serving to 940mg, up from 700mg per serving. This increase in potassium may be especially beneficial for those who might have a high-sodium diet.
More Fiber
To help support a fiber-rich diet, we've also increased the fiber content per serving to 5.6g, up from 5g of fiber per serving. And insoluble fiber, cellulose, has been added to our fiber blend too. Previously only soluble corn fiber was used.
---
So order up and let us know what you think! We hope you enjoy this new version of Original Powder. And don't forget, Soylent Powder is also available in rich, chocolatey Cacao too.
Thanks for your continued support and feedback — we literally couldn't have done this without you!