Want complete protein? Don't believe the myths, follow the science. Soy wins!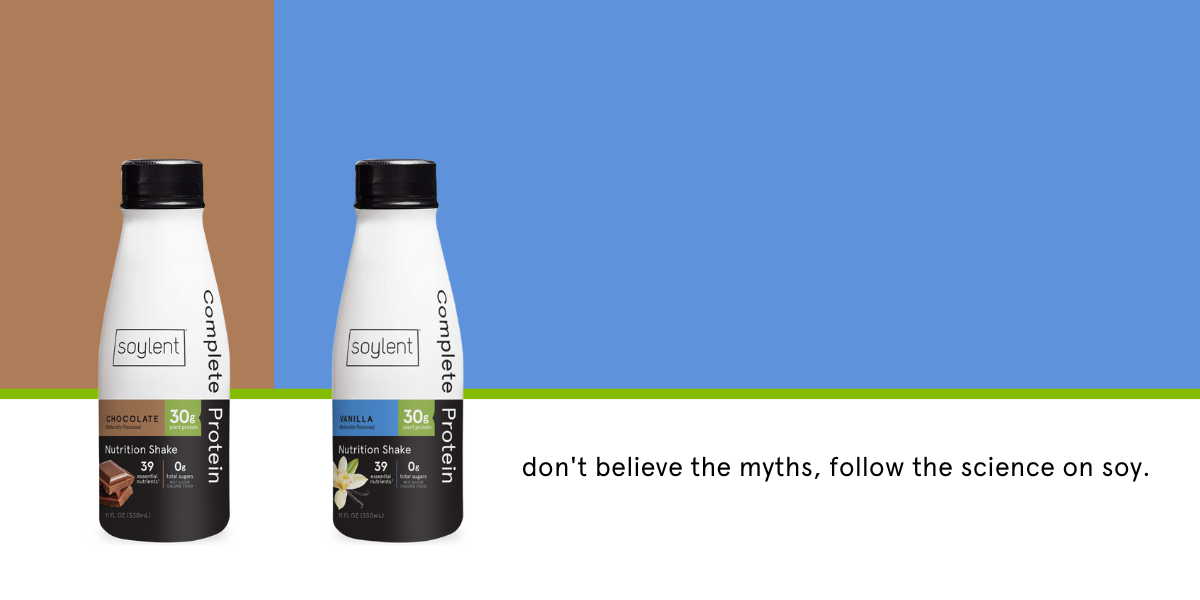 As the demand for plant-based protein sources continues to rise, soy protein has emerged as a frontrunner due to its exceptional completeness. With an impressive array of essential amino acids and a host of health benefits, soy protein stands out as the most complete plant-based protein available. This scientific blog will delve into the reasons behind soy protein's completeness, exploring its amino acid profile and nutritional properties that make it an excellent choice for individuals seeking a robust plant-based protein source.
Amino Acid Profile
Proteins are composed of building blocks called amino acids, which are categorized as essential and non-essential. Essential amino acids are crucial for the body's functions but cannot be synthesized and must be obtained through the diet. While most plant-based proteins lack one or more essential amino acids, soy protein distinguishes itself by containing all nine essential amino acids in adequate proportions. These include histidine, isoleucine, leucine, lysine, methionine, phenylalanine, threonine, tryptophan, and valine.
High Protein Digestibility
The bioavailability and digestibility of protein play a vital role in determining its nutritional value. Soy protein boasts an impressive digestibility rate, surpassing other plant-based protein sources. Studies have shown that soy protein is highly digestible, with a protein digestibility-corrected amino acid score (PDCAAS) of 1, the highest possible score. This indicates that soy protein provides an optimal balance of essential amino acids and is efficiently absorbed by the body.
Comparable to Animal-Based Proteins
Soy protein's completeness extends beyond plant-based protein comparisons, as it rivals the quality of animal-based proteins. Its amino acid profile bears a striking resemblance to animal proteins like eggs, milk, and meat. In fact, studies have demonstrated that soy protein matches the protein quality of animal-based sources such as whey and casein. This characteristic makes soy protein an excellent alternative for individuals following vegetarian or vegan diets, providing a complete protein source that supports various physiological processes.
Muscle Protein Synthesis
Protein synthesis is a crucial process for muscle growth and repair. Soy protein excels in this domain, owing to its rich content of branched-chain amino acids (BCAAs), especially leucine. Leucine plays a pivotal role in stimulating muscle protein synthesis, thereby promoting muscle growth and recovery. Soy protein's ability to trigger muscle protein synthesis has been demonstrated in numerous studies, highlighting its efficacy as a plant-based option for athletes and fitness enthusiasts.
Health Benefits Beyond Protein
Soy protein's completeness is not limited to its amino acid composition alone; it encompasses a range of additional health benefits derived from its bioactive compounds. Isoflavones, phytoestrogens found in soy, have been extensively studied for their potential positive effects on cardiovascular health, bone density, and hormonal balance. These compounds, particularly genistein and daidzein, exhibit antioxidant and anti-inflammatory properties, contributing to overall well-being.
Disease Prevention Potential
Soy protein's completeness and bioactive components have been associated with a reduced risk of various chronic diseases. Research suggests that regular consumption of soy protein may lower the risk of heart disease by reducing LDL cholesterol levels and improving overall lipid profile. Moreover, soy protein has been linked to a decreased incidence of hormone-related cancers, such as breast and prostate cancer. The isoflavones in soy have shown promising anti-cancer properties, inhibiting tumor growth and metastasis.
Soy protein shines as the most complete plant-based protein due to its exceptional amino acid profile, high digestibility, and numerous health benefits. Its completeness extends beyond other plant-based proteins, rivaling the quality of animal-based protein sources. With all essential amino acids present in optimal proportions, soy protein supports muscle growth, repair, and overall health. 
Additionally, its bioactive compounds, such as isoflavones, provide antioxidant, anti-inflammatory, and disease prevention properties. Whether you follow a vegetarian or vegan diet or simply seek to incorporate more plant-based proteins into your diet, soy protein offers a complete and scientifically supported solution for your nutritional needs.
You can now get 30g of soy protein alongside 28 vitamins and minerals in Soylent's new high protein shake - Complete Protein. It comes in two delicious flavors, chocolate and vanilla.

We did our homework:
https://today.uconn.edu/2022/05/for-plant-based-proteins-soy-is-a-versatile-choice/
https://pubmed.ncbi.nlm.nih.gov/19145965/
https://www.sciencedirect.com/science/article/pii/S2666154321001678
https://www.jacn.org/soy-vs-whey-vs-plant-protein-a-comprehensive-analysis/
https://www.ncbi.nlm.nih.gov/pmc/articles/PMC8818956/
https://ussoy.org/building-muscle-protein-blends-that-include-soy-may-be-advantageous-over-single-proteins/
https://www.ncbi.nlm.nih.gov/pmc/articles/PMC8398786/