Soylent: The World's Most Perfect Food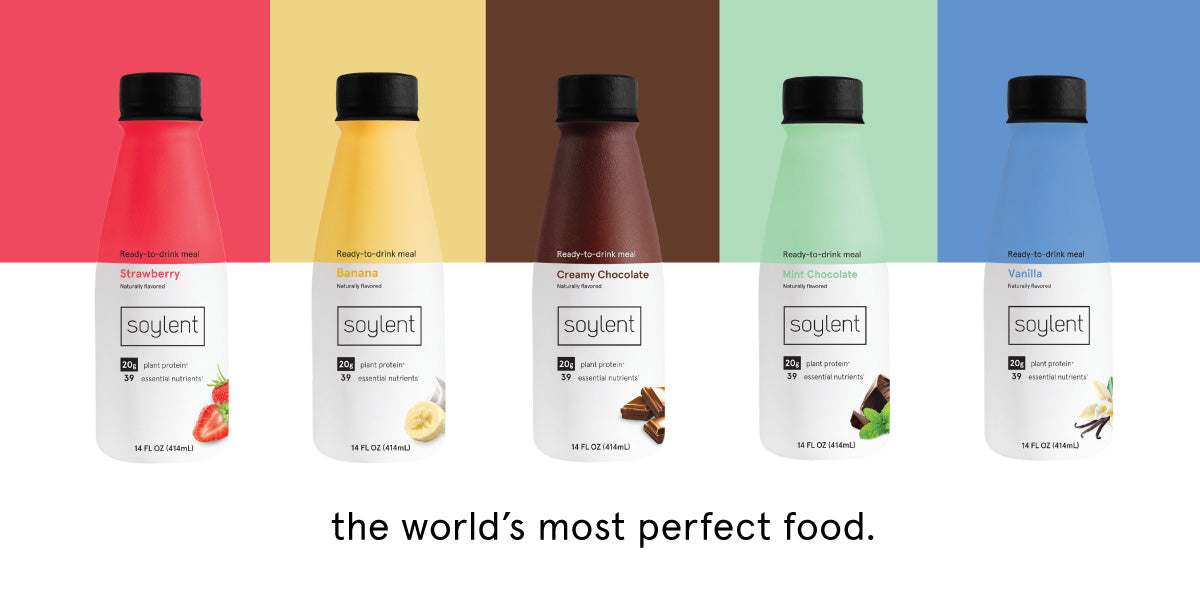 Sustainable, Affordable, Delicious, Science-Backed, and Convenient
In a world where convenience and nutrition often seem at odds, Soylent has emerged as a game-changer, revolutionizing the way we approach food. With its comprehensive nutritional profile, sustainability practices, affordability, great taste, and scientific backing, Soylent stands out as the world's most perfect food. In this article, we will delve into the various aspects that make Soylent an exceptional choice, supported by clinical citations and research.
Sustainability: Nourishing the Planet Responsibly
As we face pressing environmental challenges, sustainability has become a crucial consideration in our food choices. Soylent takes sustainability seriously and has implemented practices to minimize its ecological footprint.
Resource Efficiency: Soylent is designed to be a resource-efficient food option. Research published in the Harvard Gazette indicates that plant-based meal replacements like Soylent require less water, land, and energy compared to traditional food options, such as animal-based meals. This efficiency contributes to the preservation of natural resources and reduces environmental strain.
Plant-Based Ingredients: Soylent's commitment to sustainability is reflected in its use of plant-based ingredients. Plants have a lower carbon footprint compared to animal agriculture, which is a significant contributor to greenhouse gas emissions. Choosing plant-based alternatives helps mitigate climate change and conserve biodiversity.
Packaging Innovation: Soylent has made strides in sustainable packaging. By opting for fully recyclable materials, Soylent aims to minimize waste and promote a circular economy.
Affordability: Nourishing Bodies and Wallets
Access to nutritious food should be a right, not a privilege. Soylent recognizes the need for affordable options that offer optimal nutrition.
Cost-Effective Nutrition: Soylent provides a cost-effective alternative to traditional meals. Research published by the National Institute of Health shows that meal replacements can be a practical, healthy and affordable way to meet nutritional needs and manage weight, particularly for individuals with limited resources.
Time and Money Savings: Soylent's convenience can result in significant time and money savings. Soylent can lead to reduced food preparation time and lower overall food expenses. This benefit is particularly valuable for individuals with busy schedules or limited cooking facilities.
Great Taste: Nourishing the Palate
Nutrition is essential, but it shouldn't come at the expense of taste. Soylent has invested in flavor and texture to provide a pleasurable and satisfying experience.
Sensory Evaluation: Soylent's dedication to taste is supported by sensory evaluations. A study published by Kantar Research in 2023 assessed the acceptability of different meal replacements, including Soylent. The results indicated favorable ratings for taste and overall sensory experience, highlighting Soylent's commitment to delivering an enjoyable product. Soylent was rated the top choice as voted on by 40,000 people.
Flavor Variety: Soylent offers a range of flavors, allowing individuals to choose options that suit their preferences. Whether it's the classic Original, the rich and smooth Chocolate, or the refreshing fruity flavors of strawberry and banana, Soylent caters to diverse taste preferences.
Science-Backed Nutrition: Nourishing the Body
Soylent's formulation is rooted in scientific research, ensuring that it provides a complete and balanced nutritional profile.
Clinical Trials: Soylent's nutritional composition has been evaluated in clinical trials. A study published in the journal Science Direct assessed the impact of Soylent consumption on health parameters for oncology patients, such as body weight, nutrient status, and overall well-being. The findings indicated that Soylent can support adequate nutrient intake and contribute to overall nutritional well-being.

In addition, Soylent has a low glycemic index and has also been associated with reduction of type 2 diabetes risk in clinical trials.

Macro- and Micronutrient Composition: Soylent is designed to provide a comprehensive range of macronutrients (carbohydrates, proteins, and fats) and essential micronutrients (vitamins and minerals). These nutrient compositions are based on established dietary guidelines, ensuring that Soylent delivers the necessary components for optimal health and vitality.
Convenience: Nourishing the Modern Lifestyle
In a fast-paced world, convenience plays a crucial role in food choices. Soylent caters to individuals seeking a convenient and hassle-free solution.
On-the-Go Nutrition: Soylent's ready-to-drink format eliminates the need for meal preparation, making it ideal for individuals on the go. Whether you're rushing to work or need a quick snack between activities, Soylent offers a convenient solution that doesn't compromise on nutrition.
Portability: Soylent's packaging is designed for easy transport and consumption. The compact bottles and resealable caps make it convenient to carry and enjoy Soylent wherever you are.
Soylent has redefined the concept of food by offering a sustainable, affordable, delicious, science-backed, and convenient solution. Supported by clinical research, Soylent's nutritional profile meets the needs of modern lifestyles while addressing sustainability concerns. With Soylent, individuals can nourish their bodies, save time and money, and contribute to a more sustainable future. Embrace the world's most perfect food and experience the power of optimal nutrition with Soylent.

Learn More:
https://news.harvard.edu/gazette/story/newsplus/healthy-plant-based-diets-better-for-the-environment-than-less-healthy-plant-based-diets/

https://newsroom.ucla.edu/releases/paleo-keto-climatarian-diet-carbon-footprint

https://www.sciencedirect.com/science/article/abs/pii/S1879850021000035

https://www.uclahealth.org/medical-services/radonc/clinical-trials/phase-ii-study-integrating-soylenttm-meal-replacement-reduce

https://www.prnewswire.com/news-releases/soylent-recognized-as-a-2023-product-of-the-year-usa-award-winner-301749476.html

https://www.ncbi.nlm.nih.gov/pmc/articles/PMC8106138/

https://www.ncbi.nlm.nih.gov/pmc/articles/PMC2851659/

https://www.ncbi.nlm.nih.gov/pmc/articles/PMC10020027/

https://soylent.com/blogs/news/soylent-has-a-low-glycemic-index