Together We Can End Hunger!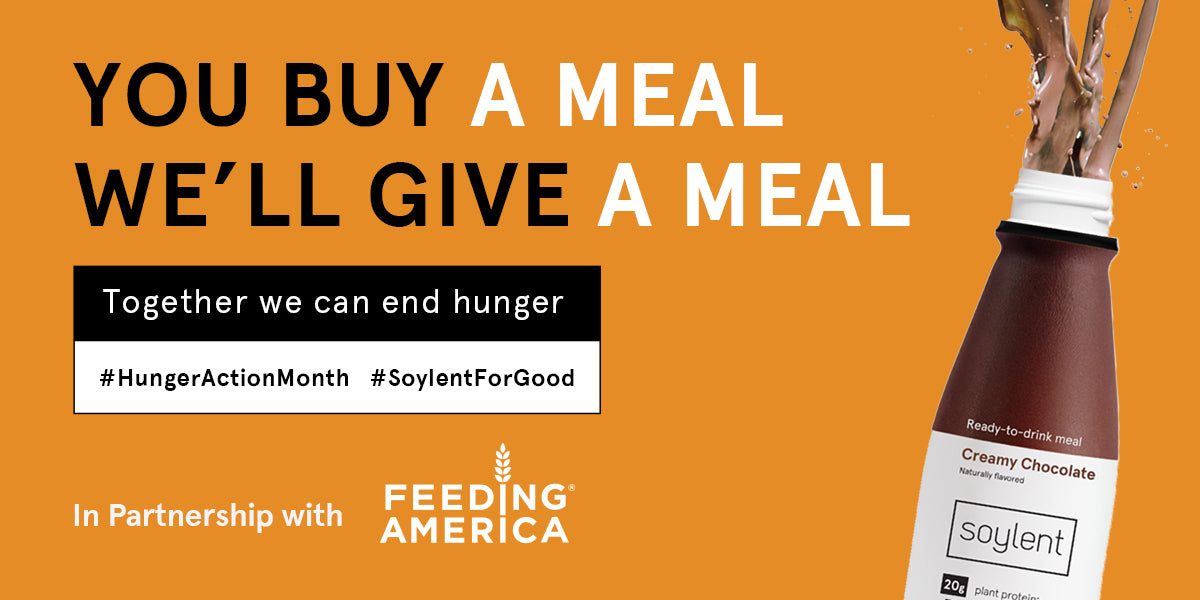 Hunger and Food Insecurity are ongoing problems in our country and around the world. Right now in the US 40 million Americans are food insecure, meaning they don't know where their next meal is coming from.  As a food company we believe it is our responsibility to take an active role in making sure that everyone has access to enough nutritious food to be healthy and happy.  
Since the inception of our company we have made it our mission to give back and to work with the incredible organizations on the front lines of this issue.  We have worked with The World Food Program, Swipe Out Hunger, MAZON, The Hope Center, The Midnight Mission, and dozens of other organizations who work every day to ensure that all people can feed themselves and their families, because we believe this is a human right.  
Since the beginning of our #SoylentForGood give-back program we have donated over 3.5 Million meals and we are not stopping!
This year has challenged us all, but already marginalized communities have suffered the most because of COVID-19.  We are partnering with the largest hunger relief organization in the country, Feeding America, to provide more meals than ever before.  
So far this year, we have donated more than 800,000 meals and in September, Hunger Action Month, we are committed to donating another 1 million meals, with your help!
When you buy a bottle of Soylent we will donate a meal* through our partnership with Feeding America.  The meals will be distributed nationally through their network of Food Banks.  This means that by buying 1 case of Soylent you will provide 12 meals to families in need around the country.
Please join us over the course of this month in supporting our neighbors in need and also taking the time to learn about this issue.  You can also get involved with your local Feeding America food bank.  You can find the food bank in your community here.
We also wanted to bust some of the myths about hunger.  This list was put together by our friends at Feeding America, please take time to read it and think about how else you may be able to get involved!
If we can debunk these five myths about hunger, we can help raise awareness of the problem and loosen its grasp on people in need:
#1 
MYTH: There's a hunger crisis in other parts of the world—not in America.
FACT: 40 million people face hunger in the United States
.
That's more people than the entire population of Canada. And it means that across our nation, people simply can't make ends meet. High housing costs, rising food prices, and unexpected expenses have left millions unable to stretch their dollars far enough. Sometimes they can put a warm meal on the table after a long day—and sometimes they go to bed hungry. 
#2
MYTH: People who face hunger in America are typically homeless and unemployed.
FACT: Most of the households we serve are not homeless, and they have at least one working adult.
Even with a job and a place to call home, many people struggle to get by due to challenges like underemployment, stagnant wages and rising costs of living. According to a recent report by the Federal Reserve Board, if faced with a $400 emergency expense, 40% of American adults would either need to borrow money, sell something, or not be able to pay their bills. Feeding America is committed to helping households weather life's storms. When the car breaks down, a health emergency happens or a hurricane hits, we make sure people have the food they need to get back on their feet.
#3 
MYTH: Hunger is most frequently found in cities.
FACT: Hunger is common in rural areas—including some of the farming communities that grow America's crops.
Seventy-nine percent of the counties with the highest hunger rates in America are in rural areas. Limited access to jobs, transportation, and education make it tough to earn a living in remote areas like rural Alaska. Some are forced to choose between paying for groceries or other essentials like heat. This is an especially difficult choice for parents during the winter, and it's all too common.
#4 
MYTH: Food waste and hunger are different problems with different solutions.
Seventy-two billion pounds of good food goes to waste each year in America, while at the same time, 37 million people struggle with hunger. Feeding America works with food companies, farmers and other generous partners to rescue more than 3 billion pounds of food each year and help deliver it to families in need. We believe that rescuing food from going to waste is critical to solving the hunger problem in our country.
#5 
MYTH: I can't do much to help overcome challenges like hunger and food waste.
FACT: Individual actions add up to make a significant impact. There are many ways you can help Feeding America fight hunger.
After all, the compassion of supporters and volunteers like you enables the Feeding America network to feed millions of people every year across the United States. But there is still much more work to be done.
*For every bottle of Soylent purchased online between 12:00am on September 1st 2020 and 11:59pm on September 30th, 2020, Soylent will donate $.10 to Feeding America, up to 1,000,000 meals and $100,000.  Feeding America is able to make 1 meal possible through their network of food banks for this donation amount.