Top 3 Protein Shakes for Breakfast—Coffee Included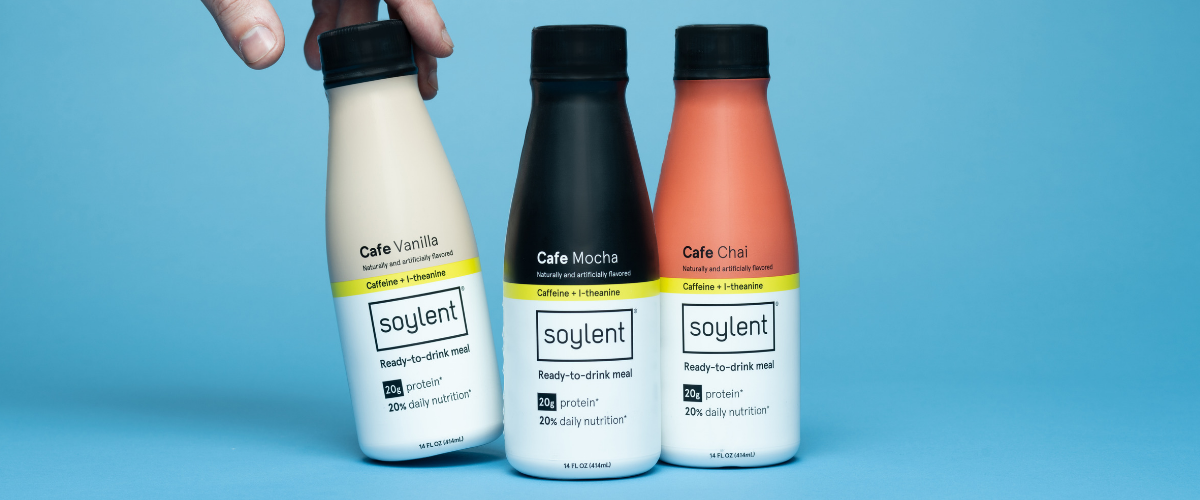 Breakfast is the most important meal of the day.
You've heard this before—probably a thousand times, so why do you keep skipping it? Thankfully, these three breakfast protein shakes will help you stop blaming your snooze button for good.
Having a protein shake for breakfast might sound like a hassle, but it doesn't have to be. Starting today (after reading this article) you will no longer have an excuse to skip breakfast. Stock up and start enjoying a better, more productive morning.
Cafe Mocha
When you wake up, do you crave sweets? We do.
Put down the Coco Puffs, you're not 13 years old anymore. You need a grown-up breakfast that gives you the fuel you need to stay satisfied all day long—and satisfy your 13-year-old cravings, too.
This is the perfect breakfast protein shake for you. It's as rich as it is robust, packing a punch that will kick your day into high gear. The chocolatey flavor of this meal replacement drink is accompanied by a natural caffeine boost that creates a luxe café mocha flavor that you'll love to wake up to.
"This product is how my mornings happen. Before I cook breakfast for the kids and wife, I spend a minute drinking (and with cafe mocha, actually ENJOYING) a breakfast that fills me up and gets me going. This product is more convenient than anything else I have ever tried to streamline my mornings. Sitting, standing, and even pushing a stroller. As a parent of 2, this is ideal and the mornings my fridge is empty of this wonder-breakfast are just less pleasant." - Andrew the Dad
No matter if you're a super dad like Andrew, a student on the run, or anything in between, this rich treat will feel like a guilty pleasure during your hectic mornings.
>Cafe Vanilla
If you're like most, it takes you a little more than a minute to wake up in the morning. You're not the spring chick that you once were, which means you need a little extra time to adjust from your deep slumber to a productive day.
This often results in the classic stay-in-bed-until-your-late syndrome. While you rush through your morning routine as fast as you possibly can, the clock is ticking, inevitably causing you to skip breakfast.
Been there, done that.
Not anymore. For us morning sloths, the is a perfect choice. It's light, refreshing, and can get you up and running in the morning. The smooth vanilla taste isn't too overbearing early in the morning and the natural source of caffeine from L-theanine peps you up without causing a jittery, anxiety-ridden morning.
"I love this stuff! I have a bottle every morning for breakfast, in addition to filling me up, it's the best pick-me-up I've ever found. Seriously I'll take a Cafe Vanilla over anything from Starbucks. Whatever your secret is with combining caffeine and I-theanine it sure works. I work in I.T. and when I'm faced with insane deadlines or last-minute business trips a few bottles of this is all that's needed to keep me going." - James
L-theanine is the same amino acid that's found in green tea. This light source of caffeine is proven to get up, get out, and get moving in the morning.
Cafe Chai
Sweet, spice, and everything nice—chai is the flavor that keeps on giving. It's equally as flavorful as it is powerful. This breakfast protein shake is less of a protein shake and more of an escape.
"Soylent Cafe Chai is my favorite flavor of the Soylent line. Its subtle, slightly sweet flavor is not overwhelming and does not leave a cloying after-taste. As a go-to meal when I'm either too busy to take a break or too distracted to figure out what I really want to eat the Cafe Chai is flavorful but mild enough to never get old." - Kimberly
With potent cardamom at its core, this spicy, rich drink offers 400 perfectly strong calories of plant-based protein and caffeine that are disguised by the creamy formula. You can still indulge in your favorite morning drink without the jitters after effects—or the high price tag.
And, you'll never have to wait in a line again. While baristas everywhere call out the wrong name to claim their overpriced coffees, you can grab one out of your fridge and go.
No lines, no hassle, no jitters—just delicious nutrition to power your day.