Good For You, Good For The Planet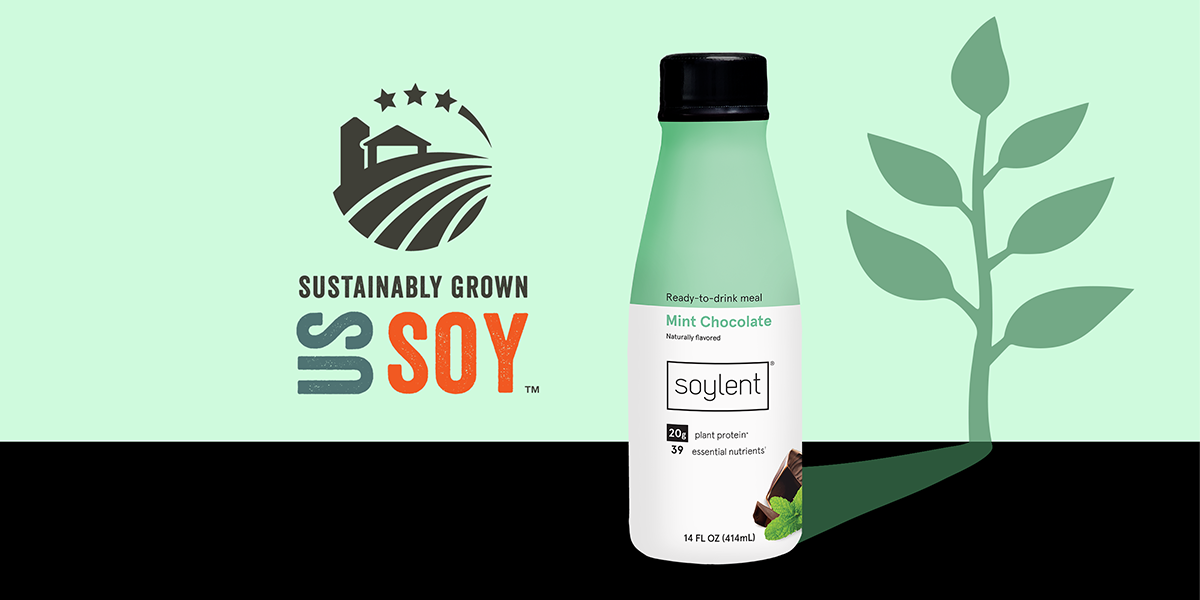 Soylent Stands For Sustainability
Since our founding, sustainability has been core to our mission, our business and our products. We have set out to create products that are as good for the planet as they are for your body. This is why we choose to use soy. You can learn all about how soy is both more nutritious and more sustainable than other plant protein in our previous "WHY SOY" blog; however, if you prefer a quick summary, here it is → Soy is a complete protein meaning it has all nine amino acids AND it uses fewer resources to grow!
We are very proud to be one of the first companies to receive the U.S. Grown, Sustainable Soy Mark!
What is the mark?
The new mark denotes agricultural practices, such as no-till and cover crops, that deliver sustainable outcomes in biodiversity, soil carbon, water management and overall soil conservation. U.S. Soy delivers to the food industry a quality ingredient to help them meet their sustainability goals by prioritizing soil health, reducing greenhouse gas (GHG) emissions, and energy usage.
Customers can be assured that products carrying the mark contain soy ingredients that:
Were grown in the United States
Are compliant with all U.S. environmental regulations
Protect highly erodible soils and wetlands
Were grown on family farms with responsible labor practices
A Note from our CEO
"It's an honor to be one of the first companies to receive the Sustainably Grown U.S. Soy mark. For years, we have created market-leading products rooted in science and sustainability, so it was important to us to be a part of this pilot," says Demir Vangelov.
Learn More About the Mark
This new mark is given to us by the USDA Soybean Board and you can learn more about it on their site.
Buying Soylent Means Supporting Sustainable Farming
You can feel good about your Soylent purchases knowing that we put your dollars to work to support sustainable agriculture. We work with our partners, suppliers and our entire supply chain to ensure that every product is as sustainable as possible. Thank you for your support!